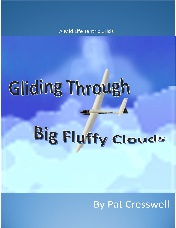 Pat Cresswell's Work In Progress

My current work in progress is listed below. If there is a downloadable copy then feel free to read it, but, please, please, email a review - good or bad! Copies usually have not been proof read so do expect typos etc.

Email: pat4fun@hotmail.co.uk

Gliding Through Big Fluffy Clouds
GTBFC is a story of Nick Middleton, Mr Average, in his mid-fifties. So far little remarkable has happened in his life but then in short order comes the breakup of his relationship, the end of his job and meeting two incredibly sensual ladies. And that's just the start.

The story is told in first person, giving you intimate insight to the moral delimers and just plain bemused thoughts as Nick tries to make sense of what life is throwing at him. Some parts of his life crash and burn, others take to sky and glide through the clouds - for a while.
37K word novella with sexual scenes and is only suited to 18+ readers. PDF A5 format.

Troisoeufs
'Three Eggs' is the story of two men, from childhood school chums, through marriage, families and careers in cut throat world of online shopping sites. They create a highly successful site that gives them money they could only dream about. But then comes a holiday in Antigua ...

Troisoeufs is in very early draft stages so check back for the first Advance Readers Copy.

See what's on the way!
Be the first to read new works